by Yasi Salek
In a time when funding for the arts

is in peril—the arts again being the first victim of economic recession—Santa Barbara somehow continues to enjoy a rather rich array not only of visual art, but also theater, dance, music, and literature. In some part, the thriving creation of these arts can be attributed to John Edward Profant. Born in Santa Barbara on May 23, 1928, Profant served in the National Guard, fought in the Korean War, and received a degree in economics from UCLA. Few people knew of his true passions, however—singing and dancing. A talented tenor, he performed with the International Opera Ensemble, Opera West, Inc., and was a founding member of the Francisco Martinez Dance Theatre. He met his future wife, Lyn, a ballerina, when he asked her to dance during Fiesta at Santa Barbara's El Paseo. After Profant passed away in 1994, his love for and dedication to the arts inspired his family to establish the John E. Profant Foundation for the Arts, which started donating funds in 2001.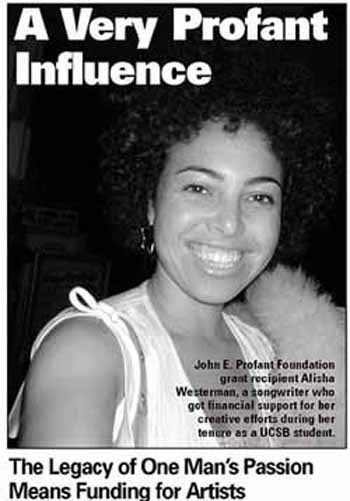 Over the past two years, the Profant Foundation has granted a total of $60,000 in scholarships ranging from $500 to $2,000, granted to more than 40 recipients. While there are a dwindling number of foundations and scholarship associations out there that provide grants for artists, the Profant Foundation is truly unique in several ways.. Application is not limited by age, and the artists can use the scholarships to benefit their artistic endeavors in any way they see fit. Money can go toward classes, equipment, airfare to attend a distant internship, or for completion of an exhibit. One prior winner, an artist who became injured and could not work, was able to pay his rent while he healed.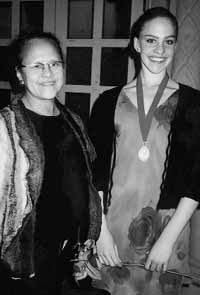 Dancer and award recipient
Laura Schmitz (right), with
dance teacher Ellen Schipper,
at the Youth America Grand
Prix dance competition finals
in New York City.
The other unique aspect of the foundation is the strong commitment to fostering community involvement. A nonprofit organization, the foundation raises a good deal of the money for the scholarships through fund-raisers such as the recent Fan Project, Santa Barbara Arts Tours, and the Foundation's biggest event, Fiesta Finale. The culmination of the annual Fiesta celebration, the Finale raises money through a gala party and dinner paired with a free public performance showcasing some of Santa Barbara's finest music and dance artists, which also includes the famed "Painting that Comes to Life." It is also where the Scholarship Awards—in the categories of dance, music, theater, art, and literature— are presented. In addition to the money raised through these events, members of the community can donate a scholarship award in the name of a loved one. While the awards aren't huge sums of money, the Profant Foundation has made an impact on the lives of those who have received them. Samuel D. Williams III, last year's recipient of the Papayan Award for Instrumental Music, has since used the money toward school and musical equipment. A senior at UCLA majoring in music with a double concentration in classical guitar performance and composition, Williams will apply again this year. "The fact that there are people out there willing to give money to support the arts is a great motivating factor for artists to keep doing what they do," he says
Last year's recipient for Literature, Alisha Westerman, agrees. The Profant Foundation, she said, "is encouraging and inspiring to people who really want to make their art their life." Westerman, a talented writer as well as singer/composer, used her grant to purchase an Apple computer that she can use to write but also to record music. She applied for grants the past two years and is applying again this year, prior to her graduation from the College of Creative Studies at UCSB in June. She plans on moving to Los Angeles to pursue her writing career, and if she is funded again this year, that money will sure help. "Living here in Santa Barbara, we're lucky to have a community that really supports the arts through things like this foundation." Another aim of the Profant Foundation is to help artists establish connections in their chosen field by drawing community attention to their work. Santa Barbara City College student Meg Barbour, who received last year's $1,000 grant for her dance video, was contacted by six individuals about potential job contacts in the industry. And Westerman, Williams, and Barbour are only a few of the many past recipients who have been motivated by these scholarships to continue producing the art that they love. If you're an artist and are now sufficiently motivated, you still have time to get involved with this year's funding. Applications are due May 23 and can be downloaded at www.profant.org. _